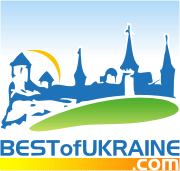 Title: Advertise
Address: http://bestofukraine.com/advertise.html
Printed on 28.09.2023
---
Why it'll be profitable for You to place information about Your services on our web-site www.bestofukraine.com?
BestOfUkraine is:


• One of the most popular travel sites on the web among the English speaking audience, which allows you to get the attention of those specifically targeted internet users. The name www.bestofukraine.com was online since June 2005.
• Everything the person might need while getting ready to visit Ukraine for business or leisure.
• Constant development and growth. (the website was completely redesigned and updated in January, 2009)
• Visitors come to our web-site from different search engines, catalogues and ratings of Internet recourses, from active links and banners of other web-sites or using their own bookmarks.
• The web-site is getting advertised in the Google AdWords system in such English speaking countries as Canada, USA, Great Britain and the Netherlands. The advertisements AdWords are shown through the Google Network: search and content sites, and on other products and blogs. The Google Network is the largest advertising network available online, reaching over 86% of Internet users worldwide.
• We can send targeted visitors directly to what you are offering!


For You we can offer:


• to place information (banners, information articles, text blocks, simple links) about your services on such pages and topics/parts of our web-site, which JUST YOUR POTENTIAL BUYERS/CLIENTS will visit;
• reasonable prices, flexible discount system;
• individual approach;
• MAXImum advertising effect with MINImum expenses!


Best for the Best! :)

Interested in FREE placement? Go for it!


Possibilities to place advertising on the web-site BestOfUkraine.com
1. TEXTUAL-GRAPHICAL (INFORMATIONAL) BLOCKS.


They include:
• Information about the establishment (short)
• Services (short)
• Contact information (address, phone number, fax, email, web-page)
• 1-2 photographs ( exact quantity is negotiable ) + possible "how to get" map


1. TEXTUAL (INFORMATIONAL) BLOCKS.


They include:
• Information about the establishment (short)
• Services (short)
• Contact information (address, phone number, fax, email, web-page)


2. BANNERS of different sizes: 468x60 pixels, 180х150, 180х300 and 225x90.
They could be placed on one page or throughout the web-site.


3. TEXT LISTINGS.


They include:
• Company Name
• Contact information (address, phone number, fax, email, web-page)


4. TEXT LINKS.


5. INFORMATIONAL ARTICLES, NEWS.


Please note, all advertisements should be in English.


Terms of placement:


• Minimum term of placement - 3 months
• Creation of the banner is not included (but could be offered for an additional fee)
• Payment is made in Hryvnia according to the NBU rate on the day of payment for companies in Ukraine. Payment could be made in USD via PayPal for companies outside of Ukraine.
• Administration of the web-site BestOfUkraine.com has all rights to refuse in advertisement placement if to our opinion advertising materials are not relevant to the interests of our audience/users or could be considered potentially abusive, vulgar, obscene, hateful or harmful for any audience.


How to place advertising:


Feel free to send us your advertisement enquiries at: ubkua@ukr.net

Please, don't forget to include:
• The name of the establishment
• Rendered services
• The link to your web-site from the banner (your existing web-site address, if you have it)
• Type of the banner you choose
• Banner (if you have your own one)
• Terms (from … till… ) of the advertising placement
• Type of payment
• Contact person and his/her contact phone number and email address


Discounts:


We provide a flexible discount system:
Order from 3 to 6 months - 4%
Order from 6 to 9 months - 5%
Order from 9 to 12 months - 6%


For a price quotation and other information please do not hesitate to contact us at ubkua@ukr.net


BestOfUkraine.com invites You for our mutually profitable collaboration!


---
© 2010. BestOfUkraine.com. All Rights Reserved.